1. Business documents are the source of information to be recorded in the Books Of Original Entry
2. Subsequently, posting into the ledger is made and the final Financial Statement can be provided to determine the outcome of the business operation.

Document → Books Of Original Entry → Ledger → Financial Statement

Receipt(Copy) As Information Sources For Cash Account Journal/Cash Book
1. When the business receives money from the debtor, cash sales and other sources, the original receipt will be given to the payer. Information from the receipts will be recorded in the Cash Receipts Journal or Cash Book.
2. Businesses that use cash registers will issue receipts for cash sales. These receipts will specify the code of sales and the amount received in cash.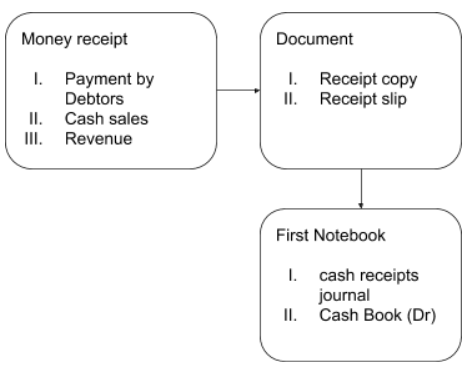 Cheque Section as information source for Cash Payment Journal/Cash Book
1. Information for Cash Payment Journal / Cash Book can be obtained from:
(a) Receipt (original) received for payment of money.
(b) Cheque section in cheque book
(c) Cash (original) bill and payout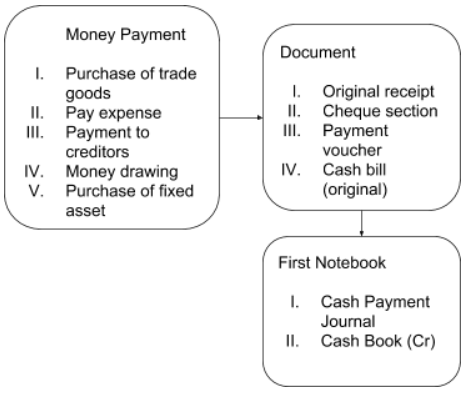 Purchase Invoice As Purchase Journal Information Sources
1. Information on the Purchase Journal is available in:
(a) the purchase invoice (original) received from suppliers
(b) debit notes (original) received from creditors

Sales Invoice As Source Of Journal Information Sour
1. The information in the Sales Journal is obtained from:
(a) A copy of the sales invoice sent to the debtor
(b) A copy of the debit note which serves as an additional invoice when a sales invoice sent to the debtor is under delivery.

Credit Note (Copy) As Information Sources For Sales Return Journal
1. Information in the Sales Return Journal (In) is obtained from a copy of a credit note. The original credit note was sent to the customer when the goods were returned to the business.

Various Business Document As Account Records Source

Debit Notes
1. Debit notes are also used as sources of information for General Journals.